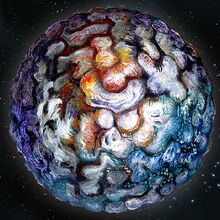 Planet found in Universal Rule. Not much is known at this time about Pulse-Sphere, though Brenimov-X is from the planet.
 Universal Rule Planet Abilities
Edit
Basic (Farsight)
| | |
| --- | --- |
| Cost | 4 |
| Military | 4 |
| Income | 3 |
| Text | When you explore, look at 2 cards, keep 1. (Discard the other.) |
| Notes | If there is only one card left in the deck (and the discard pile is empty), simply draw that card. |
Upgraded (Cartographer nee Geth's Tome)
VP
2
Cost
6
Military
6
Income
2
Text
When you produce, you may take 3 fewer credits to draw a card.
Notes
This does not trigger explore effects (like Farsight, or Explore Glommer).


If you are going to produce less than 3 credits, you cannot use this ability.


This only happens once per produce action. You cannot choose to take 6 credits fewer to draw two cards.


(Interaction with credit limit) If you credit limit is 10, and you already have 8 credits, and you would gain 6 credits, you can choose to gain 3 credits and draw a card.
Development Notes
There is also a magic card called "Farsight", but it has an unrelated effect.
1/8/2016  Bring these upgraded cards down to base level:
Farsight, Middleman, Colony Monopolizer

7/9/2016 No 5-cost planets (upgraded or basic). Specifically, Geth's Tome, Harbinger, and Large Moneymaker now cost 6 instead of 5. We're not banning 5 as a cost entirely, we'll use it if we have to, but our preference will be to avoid it.

9/30/2016 Geth's Tome is strong (maybe too strong). Giving up 3 credits for a card that will probably be worth at least one VP (as fleet). If it were 5 credits, then at least you'd be giving up a point for a card.
10/3/2016 Farsight - Clarification for an FAQ or maybe at the end of the rules. The unchosen card goes to the bottom of the deck.
Modify Geth's Tome to require 4 credits for an extra card instead of 3.

11/15/2016 Renamed Geth's Tome (a Magic card) to Cartographer